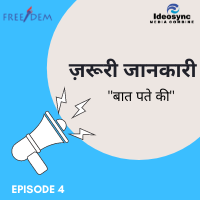 Zaroori jankari (Important Information):  As the name suggests this show is used to disseminate necessary information to the community members on any topic the community needs information on. Episode producer Naazneen is a  20 year old college going girl from Palla, Delhi who is vocal about issues specially revolving and concerning young people like her. This is her second attempt in creating a podcast on the same.
Episode 4: Information on Delhi Skill and Entrepreneurship University
"The Delhi Skill and Entrepreneurship University, with its emphasis on partnerships with industries and relevant skilling, will be opening up the admission process for its first batch of students"
Host Naazneen shares appropriate details on the newly developed Delhi School and Entrepreneurship University (Estd.Aug2020) which has recently opened admissions for various programs. The information has been curated from the DSEU website https://dseu.ac.in/

Zaroori Jankari is one of 6 shows produced as part of the Free/Dem Community Podcasts, the online avatar of the Freedem WhatsApp Radio run by community members of Tajpur Pahadi and other urban slums in and around Delhi. The shows are built around ideas of gender equity, love, freedom of expression, human rights and justice. Through the podcasts, community members discuss as well as share their lived realities. They are produced under Ideosync's FREE/DEM initiative, which provides marginalized communities - especially women and migrants - a platform to amplify their narratives and stories using audio and video.